United States Conference of Catholic Bishops
National Migration Week 2014: January 5-11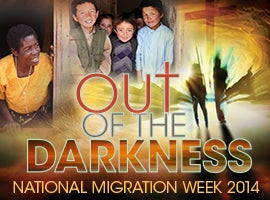 National Migration Week 2014 will take place January 5-11 with the theme, "Out of the Darkness." Migrants and particularly the most vulnerable migrants: children, the undocumented, refugees, and victims of human trafficking, often find themselves existing in a kind of figurative darkness where their options remain limited and their ability to live out their lives in its fullness severely restricted. Often at risk of violence or exploitation these vulnerable populations need to be provided the support needed so that they can thrive.
Visit the usccb.org for more information and resources.